Warrior Spirit Mission Homefront
Designed to create an authentically supportive environment amongst Veterans, and those who work closely with them. Reintegrating purposefully into families, relationships, marriages, and communities.
A Social Communication Game Made for Healing
They served with pride, they returned home honorably. But what next? Veterans are often left with feelings of disconnection, a loss of purpose, and sadness that they just can't shake. Warrior Spirit Mission Homefront is a peer to peer interactive game that pushes both parties to open up, encourages them to speak out about things they've kept in, and process their feelings and frustrations in order to move past them.
Meet the Veterans emotional, mental, & spiritual needs
Create a supportive environment between Veterans & those close to them
Combat stress, support reintegration, & build resilience
Aid the Veteran in self-definition & reintegration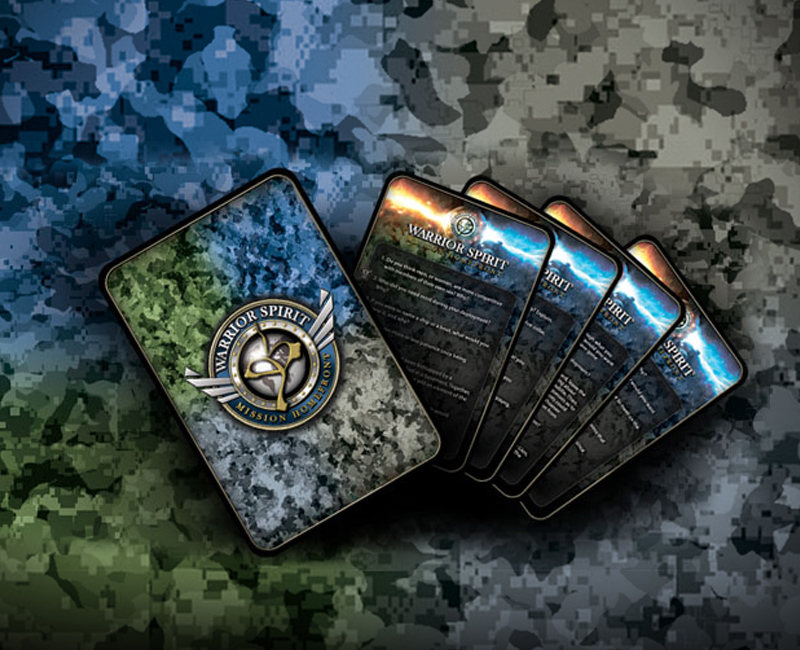 Warrior Spirit Mission Homefront was Created BY and FOR Individuals Who Served Couragiously
The people who created and use Warrior Spirit Mission Homefront aren't the only thing that sets it apart. Veterans, peers, and loved ones learn from each other. In workshops, the sessions are often lead by Veterans themselves. The ongoing process of dialogue inevitable builds trust deepens relationships and reduces isolation and depression.
Program Breakdown
If your group, program, or family participates in a workshop, you'll be led through a carefully designed 3-hour program to assist in interpersonal reflection, connection, belonging, hope, and the tools and methods to continue the healing and growing process going forward.
First 30 minutes: Creative icebreakers which pertain to the individual's identity before and after deployment. Then, a warm-up group discussion from card deck questions. For example: "What are three things you wish civilians understood about deployment?"
Next 90 minutes: Breaking into groups of 5, each group with a card deck, every 30 minutes changing groups. After this experience, Veterans can facilitate their own groups.
20 minutes of mingling and relaxation
Next 20 minutes: Journaling reflection. These thoughts and feelings are just for the individual to reflect on and unpack, not to be shared with the group.
Last 20 minutes: Close with an open discussion about the process, anything the Veterans wish to discuss and creating action steps going forward. Those who wish to facilitate sessions and take on leadership roles will be identified at this time.
This session focuses on peer to peer mentoring and training. Veterans will be trained to use Warrior Spirit Mission Homefront among their families and peers to assist them and give them the confidence to run their own groups. Each student will be trained and given the opportunity to facilitate a group. 
At the end of this session, each Veteran will have the confidence to lead their own groups. They'll be building empowerment, leadership skills, and feelings of capability and enriched purpose.
Warrior Spirit Mission Homefront will be used as a tool to help Veterans and those close to them to create a safe place to reflect, process, and share their deployment and life experiences.
Bonding, connection, processing, and sharing is essential to ongoing mental health and motivation.
Start the Program in Your Area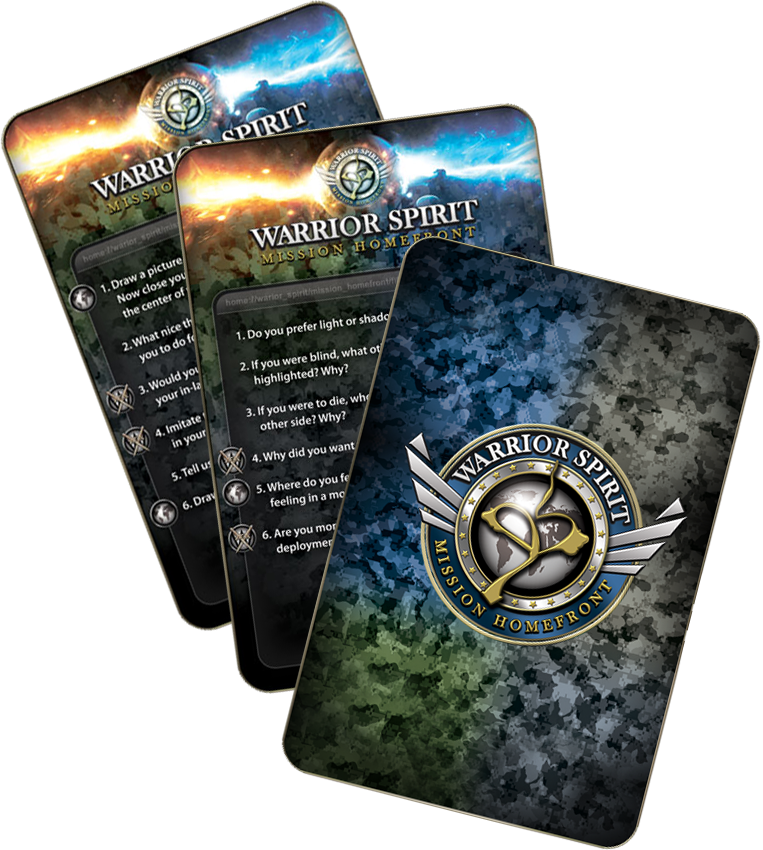 A Letter To The Facilitator
Want To Get Involved?
Get a deck for peer to peer, your friends, family, partner or loved ones.