Mission Home Front Game
Warrior Spirit Mission Homefront is an evidence-based interactive card deck encased in an elegant tin, which contains 400 thoughtful, pre-designed questions and fun interactions. There are 200 questions about life and 200 questions about military service. Each question or interaction is an opportunity to allow the Service Member or Veteran, as well as peers, friends and family members, to tell their story and to build trust.
Warrior Spirit provides the opportunity for partners, family, friends, and peers to be part of the Service Members healing. Who better to communicate and process their military experiences with than those who know, love and want to understand them. Warrior  Spirit offers refuge, hope, and healing to those who have so courageously and faithfully served our country.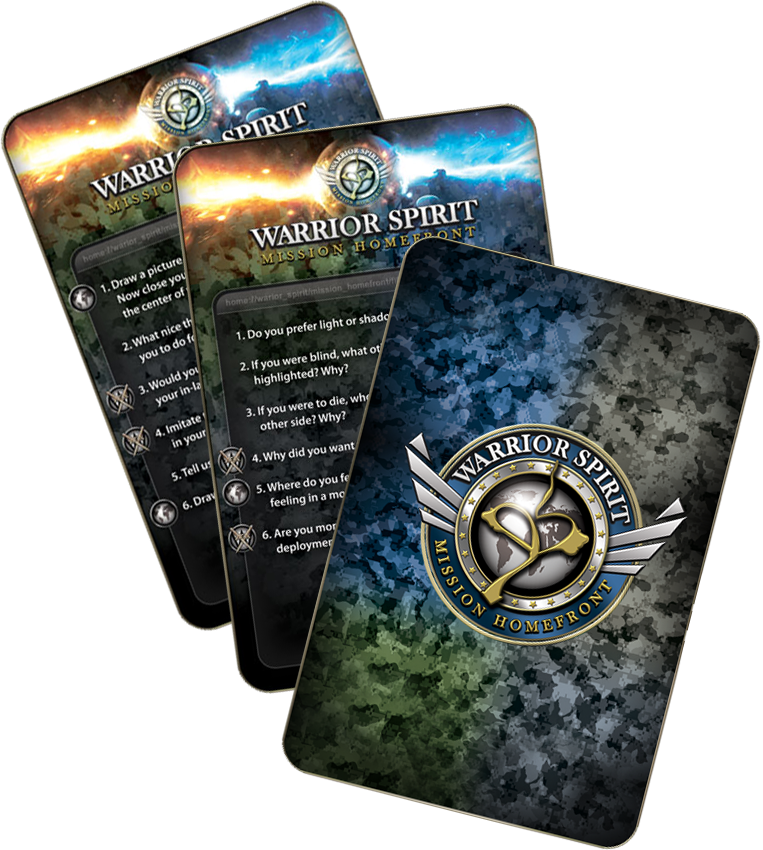 Outcomes of an evidence-based research study conducted with 299 Active Duty National Guard Service Members :
Stated that they preferred the peer to peer interaction rather than being spoken to by an expert.
Stated that they would recommend the Warrior Spirit Mission Homefront game to others.
Stated they would want to participate again.
Felt utilizing Warrior Spirit made them feel more willing to reach out.
Felt playing Warrior Spirit was beneficial for them.
Felt Warrior Spirit helped them to express themselves in helpful ways.
Felt they were more open to listening and understanding.
Warrior Spirit is non-confrontational, enjoyable and has proven time and again to provide the common ground military Service Members, Veterans and families hope for. With Gratitude!
Want To Get Involved?
Get a deck for peer to peer, your friends, family, partner or loved ones.